About Wiiji'idiwag Ikwewag
Wiiji'idiwag Ikwewag provides support that promotes traditional Indigenous child birth and parenting teachings capable of supporting Indigenous families and especially mothers in a traditional way.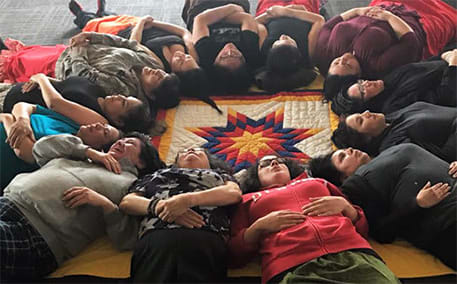 Vision & Purpose
Our vision is to leave a footprint with communities so that they may create their own path for:
Empowered families connected to their Indigenous language, culture, and identity throughout the journey of pregnancy, birth, postpartum and beyond.
Our purpose is to facilitate circles of women to come together and reclaim their roles as guardians of the sacred bond between mother and baby.
Wiiji'idiwag Ikwewag is committed to personal healing and wellness to foster nurturing and empowering relationships that will create a strong foundation to support communities and families.
Our Indigineous Birth Helpers
Our specially trained Indigenous Birth Helpers provide wholistic pregnancy, birthing, and post-partum supports to women, men and children to create safe birthing environments.
We provide culturally rooted teachings and practices that build confidence and promote the restoration of traditional birth practices, sacred family bonds and healthy relationships.
We recognize that each family situation is unique, our customized approach respects the diversity of families and honours their personal values and beliefs.
Services
Through four primary services, Wiiji'idiwag Ikwewag provides support to women as they navigate the pregnancy, birth, and post-birth process.  
Women Helping Women... Learn More
We welcome you to contact us for information about our work and how we might be able to help you.
Contact Us